Last week, I posted my thoughts on fall TV thus far on Monday nights and now we're on to Tuesday!
tuesday
Let's start with the tried and true. Two of my favorite shows on TV are on Tuesday night on Fox: New Girl and The Mindy Project. I'm still happily watching both of them and think Mindy has just gotten better every episode. I am just obsessed with Mindy Kaling and I love the cast – Ike Barinholtz, Adam Pally (RIP Happy Endings) and gahhhh Chris Messina. Here, enjoy some dancing/stripping Chris Messina: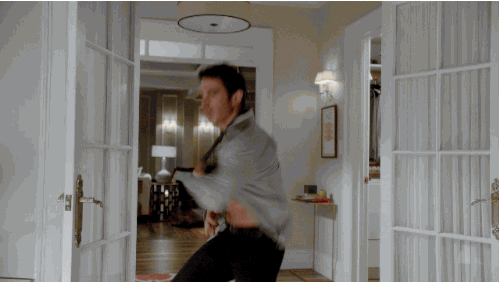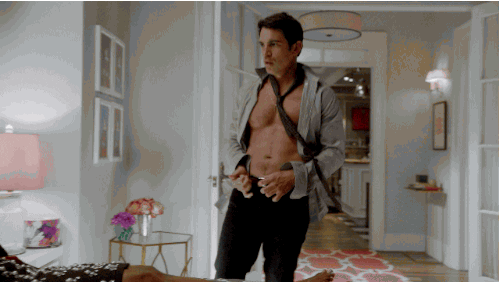 YOU'RE WELCOME.
New Girl is struggling a bit, as it did last season… I don't think it's recaptured the magic it had near the end of season 1 and into season 2. I feel like they finally have a better idea of how to use Winston as a character but now they have Coach as the character that needs more character development and Damon Wayons Jr. only reminds me AGAIN of how much I miss Happy Endings. But I do still enjoy watching it. These two are priority TV. We usually watch them both live (or at least within 15-30 minutes of when they air).
Continuing my night of Happy Endings alums, I've started watching Marry Me, created by HE creator David Caspe and starring Casey Wilson. With the World Series, New Girl and Mindy have been on hiatus so I've been watching Marry Me live-ish and will continue to DVR once my regular Fox shows come back. I don't love love love Marry Me yet but I have a crush on it, for sure. I think Casey Wilson is great, I think there's potential in the show and in last night's episode, Derrick from Happy Endings appeared, seemingly playing the same character, and dressed as Lloyd Dobler.
I'm not sure if Marry Me will last past this season or how it will work once they actually get married. But I'm willing to give it a chance. YEAR OF PENNY!
I recently binge watched the first season of About a Boy on Netflix and decided to start watching the second season, which conveniently airs after Marry Me. I thought the first season was charming, albeit a little boring. I'm pretty bored so far in the second season but not enough to stop watching yet so it's just hanging out on my DVR.
Oh, Selfie. I wanted to hate this show. I did. The name alone – GOD. WHY? The ads were awful, the premise seemed stupid; like the youths say, I. can't. even.
But guys…. I kind of like it. It's grown on me. There were some rough moments in the pilot but every episode since has gotten better. I've laughed out loud (more than I have in several other sitcoms recently). John Cho is adorbs. I don't know if it's a long term prospect at all and it will definitely be something that people look back on like, "Ha! Can you believe there was a show called Selfie?" But there's a sweet, funny show hiding in there somewhere, I think. Give it a chance.
Unlike with Selfie that I wanted to hate, I really wanted to love Manhattan Love Story. I liked the lead actors, I love romantic comedies… but the show was such a bummer. Seriously. To try and be fair, I watched 3 episodes and it just got worse every week. I kid you not, this show started with voice over of a dude walking down the street, thinking about boobs, and a woman walking down the street, thinking about purses. It's 2014. This is still passing as humor? It was just a strange show that could not find its voice and it got canceled after 4 episodes.
Interesting side note about Manhattan Love Story: I tweeted about how I was trying to give the show a chance but I still disliked it and I got this reply, from the show's creator:
So, if you stumble on this blog post too – what's up Jeff? Sorry about your luck. I hope you find a new project soon and it turns out better than MLS. 
To not end on a bummer note, here are a buttload of Happy Endings gifs to remember the good times and an alternate universe where ABC would have kept this show on instead of even entertaining the idea of a show like Manhattan Love Story.